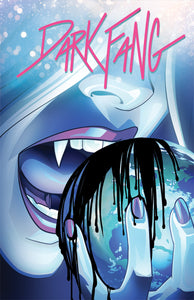 "EARTH CALLING," Part One
Her name is Valla. In life she was a fisherwoman. In death she is a vampire residing peacefully on the bottom of the ocean. When a mysterious dark plague descends upon her aquatic paradise, she must venture to the surface in search of answers.
What she finds is a world headed towards an environmental collapse that will eventually wipe out her food supply. If Valla is to continue to have the blood she needs to survive, then she must stop the fossil fuel industries from destroying the planet-no matter the cost.
From MILES GUNTER (NYC MECH) and KELSEY SHANNON (BASTARD SAMURAI) comes an action-horror middle finger to the politicians and propagandists who choose to deny the reality of climate change.

Prepare yourself. DARK FANG is coming.