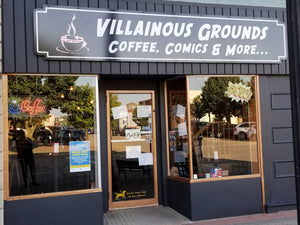 Regular Business Hours
Tuesday - Saturday 6am-5pm
Monday 6am-10am
Click for Villainous Merch!
Holiday & Special Hours 2023
11/11 Sat - Closing at NOON - Traveling
11/13 Mon - Closed - Traveling
11/22 Wed - Closing at 10am
11/23 Thurs - Closed for Thanksgiving
12/2 - Staying open until 7pm Perryville Small Business Saturday / Christmas on the Square
12/25 Mon - Closed for Christmas
1/1/24 Mon - Closed for New Years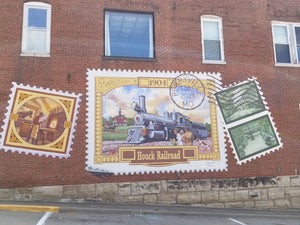 Shop Address
26 N Jackson St.
Perryville, MO 63775
villainousgrounds@gmail.com
573-605-1333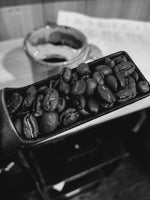 Welcome to Villainous Grounds!
Need coffee?  We've got you covered! Got a sweet tooth?  We have Chocolate Truffles and Pastries!  Shakes, Fruit Smoothies, Nitro Cold Brew, Italian Soda - we can hook you up.  Buy beans by the pound for brewing at home!
Want to pick up some comic books?  Browse our selection online or at the store. Submit a pull list for the latest titles and we'll have them ready for you once we receive them.  Email us at villainousgrounds@gmail.com to set one up! Please note, pull list items will not be available online, those must be purchased via the brick and mortar store.
Any time you're purchasing from our site, spend $35 and get FREE shipping! (US only). We do also ship internationally!
Click here to shop COFFEE!
Villainous Bazaar
Our bazaar is a collection of work local artisans and crafters located on the second floor above the coffee shop. Booth spaces are available to rent.
Click here for more info!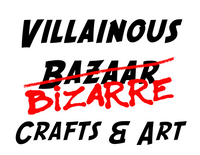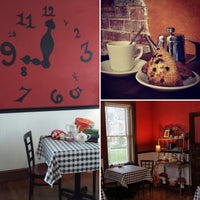 Mad Hatter's Tea Room
The Mad Hatter's Tea Room is situated on the second floor of Villainous Grounds overlooking the Square.  It's a great place to people watch.  The space is available to sit and enjoy. If you're looking for a private space you can rent it for $25 for two hours.
Spillin' the Beans Blog...