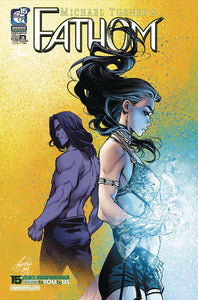 1998's Best-Selling Title of the Year Celebrates 20 Years in 2018!

Aspen finally finds her brother, but Finn might no longer be the same person she thought he was. Shocking revelations pile up as Aspen and her allies are caught between the military might of the Russians, the Chinese, and the Americans. Even if Aspen can rescue Finn, will the cost be starting World War 3?

Michael Turner and Aspen Comics' flagship title commemorates its landmark twenty years since its debut in grand fashion! The superstar creative team of Ron Marz (Green Lantern, Witchblade) and Siya Oum (Lola XOXO) are on board to deliver Fathom, and the iconic heroine, Aspen Matthews, to a new generation of readers as well as loyal fans alike!