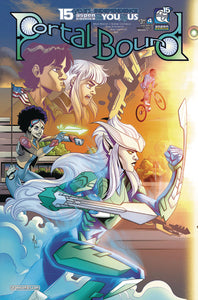 Their Future Depends on Each Other as Aspen's newest hit series continues!

Sybil has abandoned her friends! As she makes her way to face her father alone, an unexpected but familiar face lies in wait, but are they friend, or foe? Meanwhile Emperor Atilus has all but completed his plan to return Havos to the war-world it was in the glory days, and the Portal Bound crew faces it's biggest challenge yet... Brett?

Aspen's brand new action-adventure saga continues from writers Mark Roslan (BubbleGun, Broken Pieces) and newcomer Gabe Carrasco, with artist Alex Arizmendi (Edge of Venomverse: War Stories, Secret Empire: Brave New World) as they bring us a tale of two earths in need of two heroes!