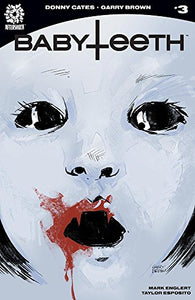 Okay, just what the hell is going on in this book? I mean-right? Assassins? Secret Illuminati groups? Portals to hell? Raccoon monsters? Earthquakes? Demon babies? LASER TAG FIGHTS? What the hell, Cates?
Well, look. I promise this is all going to make sense. You just gotta hang in there. This issue is great, though. You're gonna love it.
(Smiley face emoji)
From the writer of Buzzkill, Paybacks, Redneck and the break-out hit God Country comes a pulse-pounding new series with art from THE REVISIONIST's Garry Brown!