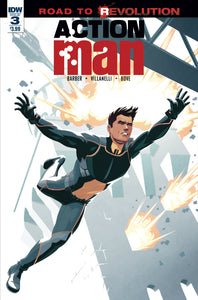 ONE-MAN SEIGE! ACTION MAN moves in on DOCTOR X's secret Alpine headquarters-but things don't go as planned, either on the way in... or the way out!
•   Secrets are revealed as DOCTOR X's master plan becomes clear!
•   On Her Majesty's action-packed attack!
•   In the spirit or Bond, John Steed, and Kingsman!
•   Sets the stage for next month's REVOLUTION!