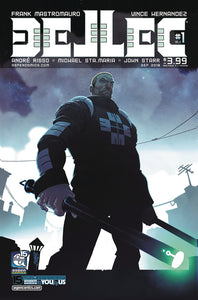 Aspen's hardest hitting series, DELLEC returns for its long-awaited second volume!
Dellec's previous battle against a higher power and the forces of evil led to a tragic ending-as he sacrificed his own life in a struggle with the Demi-God, Tera! But, a new underground resistance forged by Father Strayer is in the works, and with a shocking new leader to combat Terra and her minions, Dellec's cause is ever growing. However, a new evil has emerged...one that could spell doom for not just the innocent-but every living soul!  
From the minds of creators Frank Mastromauro (Shrugged, Awaken Skies) and Vince Hernandez (Michael Turner's Fathom: Kiani, Charismagic), along with art by Andre Risso, Michael Ste Maria and John Starr, this newest volume of DELLEC is gonna redefine your definition of the human spirit!