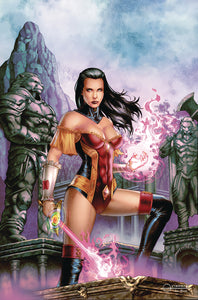 ODYSSEY
New story arc starts here!
The Legacy has been passed on. The Age of Camelot has come and gone. Skye Mathers' Odyssey begins her!
The Realms of Power are in chaos after the fallout from the Age of Camelot. Now, truly alone for the first time in her life, Skye Mathers must figure out a way to save her mentor, Shang, and still fulfill her role as Guardian, protecting the Nexus from old and new threats. Teaming with new allies, she will face her biggest test yet as she goes on an Odyssey to restore the balance to the Grimm Universe!