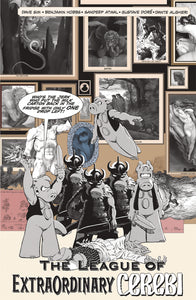 Meet The League of Extraordinary Cerebi 2.0: Cerebus! SuperCerebus! "Pappy" Cerebus! Dr. Cerebus and Mr. Vark! The Batvark Triplets! Sammy Batvark! Danny Batvark! Manny Batvark! The Visible Aardvark! Membership dues! Why Sean Connery is banned from League HQ! The
Biggest Trade in Hell (The LOEC2 for the 1927 New York Yankees!)! The League of Licensed Cerebi! Whatever happened to the League of Yesterday? Young Pappy! Gerebus Strong! Dlal A for Aardvark! Miracle Vark and/or Marvel Vark! Dr. Varkhatten! Cocaine! Offshore Cayman
Islands Bank Account Immanuel! Cerebus vs. Two Gentlemen of Verona! Super-Cerebus to the Rescue of the Whore of Babylon! Super-Gerebus vs. Batvark! Batvark vs. The League of Miniaturized Super-Cerebus Robots!