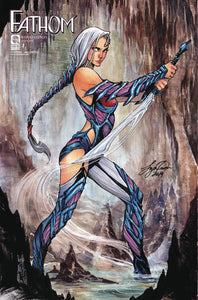 The world below is no longer a secret and everything has led to this...

Wind-a new commander of The Blue, emerges to lead her people from the ashes of Anika's destructive attack on the capitol city of Muria. However, the city receives two new powerful visitors-Aspen and Kiani! Meanwhile, Anika continues her warpath deeper into the depths, as she arrives at the secret realm of the world's most deadly beings-The Black!

Aspen's Vince Hernandez (Michael Turner's Fathom: Kiani, Charismagic) marks his debut on Fathom's principal series alongside artist Mauricio Campetella (Jirni) and colorists Peter Steigerwald (Fathom, Superman/Batman) in a storyline that will define the Fathom universe for years to come!